PRODIGY-5 Increases
Micronutrient Absorption
Delicious Taste, Bountiful Nutrition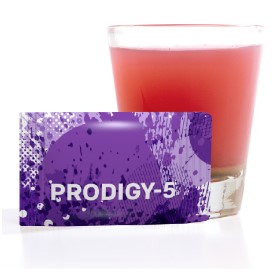 Prodigy-5 features pomegranate and raspberry for a delicious, bold flavor.
The nutrients in Prodigy-5 are increased in absorption between 20 to 70%; however, the Curcumin in Prodigy-5—a natural antioxidant and anti-inflammatory compound—the Curcumin exhibited an increased absorption of approximately 2000% with the TransArmor™ nutrient technology!
Prodigy-5 features natural green tea extract, which is known to help increase energy and mental focus. It helps provide the alertness associated with caffeine without the jittery side effects!
The fresh water phytoplankton in
Prodigy-5 contain an array of vitamins, amino acids, minerals and other nutrients. Micronutrients found in Prodigy-5 include: Vitamin A, C, D, E, K B6, B12, Folate, Thiamine, Niacin, Copper and Zinc.

Itís also rich in Riboflavin to fight free radicals while its carotenoids work together with essential fatty acids DHA and EPA which help produce nutrients your body requires.

Prodigy-5 is a NUTRITIONAL CATALYST and 5 products in 1:

Phytoplankton
Vitamins
Minerals
Antioxidants
Energy
How Are All These Benefits Possible?
Let's take a brief look at the history of supplements...
The Absorption Problem:
Delivering Nutrients with Minimal Losses
Not all nutritional supplements effectively deliver nutrition to the body. The problem is the usefulness of many supplements gets decreased because they are not well absorbed by the body.
Prodigy-5:
For over 100 years, scientists have been inventing various technologies on how to increase absorption of supplements into the body, as the harsh digestive environment of the stomach is where many supplements meet their "kryptonite," i.e. their degeneration.

Photo by Johannes Plenio on Unsplash
Many of the methods developed over the years are still being used today:
1910ís: Colloidal Ions
1920ís: Micelles
1950ís: Bilipid Lilayers
1960ís: Liposome encapsulation
1970ís to date: Salt preps, Polymorphic forms, Film Coatings, etc.
2016—A NEW IDEA!
The Absorption UPGRADE:

Nutrients Delivered with Optimal Supply Using TransArmor™ Nutrient Technology

Two brilliant medical doctors created a new approach. Instead of altering each nutrientís cell, they discovered a natural way to create a digestive environment for optimal nutrient absorption in two important places of the digestive process—the mouth and small intestine.

This is TransArmor™ Nutrient Technology!

Photo by Sharon Pittaway on Unsplash

The TransArmor™ approach is completely different. It would be like comparing an old black-and-white TV to a Smart TV of today, with surround sound, Internet connection, and other connected components.



Old technologies were intended to communicate one-to-one (encapsulating one nutrient).

The TransArmor™ technology not only shields the functional components of Prodigy-5 , but it also creates an environment where nutrition from meals and other supplements have improved absorption!

Photo by Rodion Kutsaev on Unsplash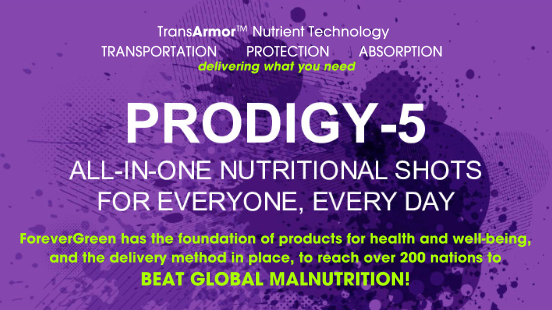 Dr. Saucedo Prodigy-5 Series: TransArmor™ Nutrient Technology, PHASE 1:

Dr. Saucedo Prodigy-5 Series: TransArmor™ Nutrient Technology, PHASE 2:

Dr. Saucedo Prodigy-5 Series: The Solution to Free Radicals:

Dr. Saucedo Prodigy-5 Series: The New Global Pandemic:

Dr. Ambati Tells Why We Need Prodigy-5:
How To Use Prodigy-5
Mix contents of one packet into 2 ounces of water or more, with or without a meal, once daily. The Prodigy-5 envelope contains 28-packets...so it is a four-week supply!
Consult your healthcare provider prior to using Prodigy-5 if you are pregnant, nursing, have a known medical condition, or if you are taking any medications.


Do you want to increase YOUR nutritional absorption?
Order PRODIGY-5 Today:
Simply click the link in the green-bar below...

DISCLAIMER: The content found here is for informational purposes only, and has not been evaluated by the Food and Drug Administration; therefore is not intended to diagnose, treat, cure or prevent any disease. Always work with a qualified medical professional before making any changes to your diet, nutritional health, prescription drug use, lifestyle, or exercise activities. If you are currently taking medication from a doctor, always discuss possible adverse reactions or inter-reactions between those medications and possible nutritional supplements.
ForeverGreen products are designed to be an important overall part of an individualís DAILY HEALTH LIFESTYLE. ForeverGreen believes in embracing health, not fighting disease. Not all persons have the same experience using ForeverGreen products. This information is provided ďas is,Ē and the reader assumes all risks from the use, non-use, or misuse of this information.
© NetResult Web Marketing
---

FTC Affiliate Disclosure:
If you purchase through links on this Web page, NetResult Web Marketing receives a commission from the sale. You do not pay higher prices when purchasing through this site. We promote only products we believe will be of benefit to you. Your support is appreciated. Thank you.